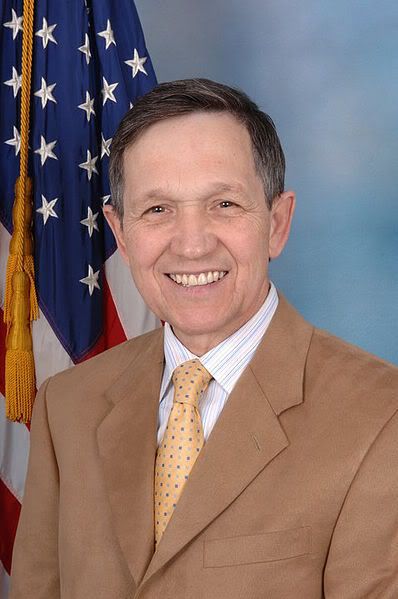 For those who are unaware, because of redistricting in Ohio, which is losing two congressional seats as a result of the 2010 census, longtime Buckeye State Congressman and 2004/2008 unserious Democratic presidential candidate Dennis Kucinich is considering a run for Congress in Washington State, some 2,000 miles from his current Cleveland digs.
In his coverage of Kucinich's recent northwestern travels, Carl Hulse at the New York Times characterized the possible long-distance congressional pursuit by the former Boy Mayor, who mismanaged Cleveland to the brink of bankruptcy in the late-1970s, thusly: "It is a somewhat novel idea that could be summed up as: Have seniority, will travel."
Hulse didn't follow up on his seniority assertion, but it would appear that if Kucinich were somehow to triumph in an Evergreen State congressional contest, he would retain his status as ranking Democratic member of the Committee on Oversight and Government Reform and his relatively lofty status at the Committee on Education and the Workforce.
Unfortunately, that's not surprising. Although not directly analogous, in 2005, former six-term Ohio Congressman Bob McEwen, who had resided in Virginia during almost all of the previous 12 years after being ousted in 1992, came close to winning a 2005 special GOP primary for the Buckeye State's Second Congressional District necessitated by Rob Portman's departure for the Bush administration. One of McEwen's major arguments was that, unlike his opponents, he would rejoin the Rules Committee with his years of seniority intact. McEwen lost, and his claim was never tested. But there is nothing I have found in discussions with others or in limited research that would lead me to believe that Dennis Kucinich would lose his seniority if he were to grab the carpetbag and somehow win election as a Washington State congressman.
This strikes me as unfair, especially to longtime Washingtonians who might have to run against Kucinich, and to other House members who have remained loyal to their states but would still have to wait their turn to move up the seniority ladder.
But there it is.
Cross-posted at the Washington Examiner Opinion Zone.
__________________________________________
BizzyBlog Update: Gosh, I just realized that today is the sixth anniversary of this post, which changed the nature of this blog forever, and was the beginning of an ultimately successful effort (with lots of help from other quarters) which kept a certain former congressman from again becoming "my" congressman.