The initial report in late April came in at an annualized 1.8%.
This link is predicting an upward revision to 2.2%. This one has 2.1%, while noting that "even a GDP revision on the higher end of the scale would still mark sluggish growth that is unlikely to pull down unemployment over the long term."
Reuters has a consensus prediction of 2.1%.
The report will appear here at 8:30 a.m.
Here it is — another disappointment compared to expectations:
Real gross domestic product — the output of goods and services produced by labor and property located in the United States — increased at an annual rate of 1.8 percent in the first quarter of 2011, (that is, from the fourth quarter to the first quarter), according to the "second" estimate released by the Bureau of Economic Analysis. In the fourth quarter, real GDP increased 3.1 percent.

The GDP estimates released today are based on more complete source data than were available for the "advance" estimate issued last month. In the advance estimate, the increase in real GDP was also 1.8 percent.
So the Reagan vs. Obama post-recession scoreboard remains as follows: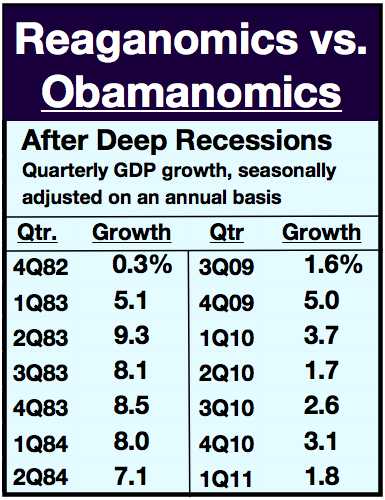 I'd say today's disappointment is another example of Gangster Government's Economic Shadow.
_______________________________________
UPDATE: At Business Insider — "What's worse, personal consumption fell to 2.2% from 2.7%, when it was expected to rise to 2.8%." There's the influence of "The Shadow" again.