The hits just keep on coming:
In the week ending May 21, the advance figure for seasonally adjusted initial claims was 424,000, an increase of 10,000 from the previous week's revised figure of 414,000. The 4-week moving average was 438,500, a decrease of 1,750 from the previous week's revised average of 440,250.
Heres the updated chart, which once again shows the previous initial release upwardly revised: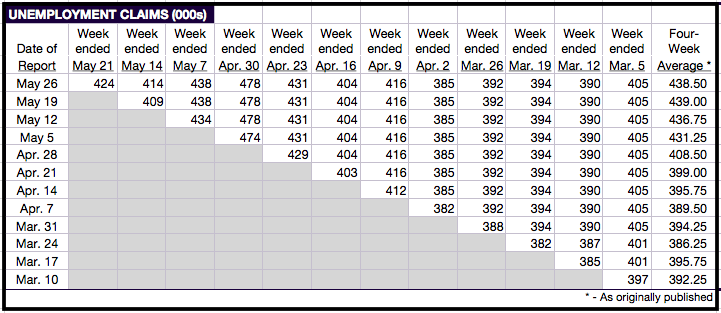 "Unexpectedly," via Reuters:
Figures showing new claims for U.S. unemployment benefits unexpectedly climbed to 424,000 last week from a revised 414,000 in the prior week also put pressure on the market.
Can't wait to see the latest batch of excuses.
________________________________________
UPDATE: At the Street.com — "Economists were expecting jobless claims to drop to 400,000 …"
UPDATE 2: The not seasonally adjusted claims number is about 9% below last year's for the same week. That's a narrower year-over year difference than most previous weeks.
UPDATE 3: Eight weeks ago, an analyst confidently asserted that "The downtrend … is undeniable." Uh, no.
UPDATE 4: Chris Rugaber at the Associated Press trots out a potential excuse even when DOL says it isn't one –
No states cited extreme weather as a factor in the increase, a department spokesman said. Tornadoes and floods have devastated several states in the Midwest and South in the past month.
I don't blame Rugaber for asking the question. But when the answer is no, you don't bring it up, you look for other explanations. Really Chris, you could as easily have written that "No states cited people leaving their jobs but hedging their bets by filing for benefits in the run-up to last week's end-of-the-world theatrics."