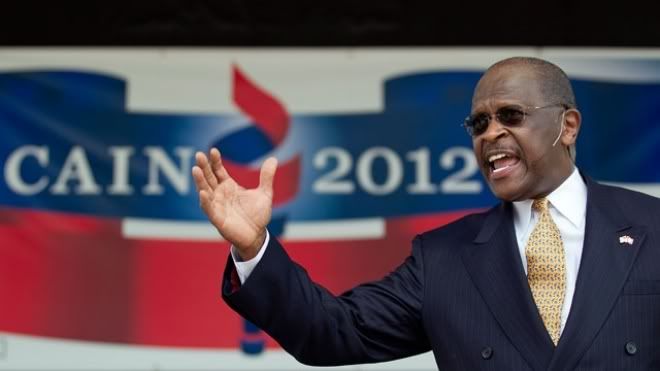 It's here.
It will go up here at BizzyBlog on Tuesday (link won't work until then) after the blackout expires.
___________________
The column's opening:
Presidential candidate Herman Cain is unafraid to speak his mind, and did so on May 23:

Throughout a Monday interview with Hotline On Call, Cain bashed Obama and his policies. When asked about Obama as a man, he complimented his family life. But when asked whether the president was a patriot, Cain hesitated. After asking for a definition (a man who is working to do what he sees as right for his country), he simply said "no."

Cain is a reasonable man, and made a reasonable assertion based on the available evidence.
Cain's popularity with those who have come to know him would explain why he has graduated to the big-time — the official DNC "Rapid Response Team" hit list:
While the DNC has been barraging media and supporters with alerts criticizing Republican presidential hopefuls Tim Pawlenty, Newt Gingrich, Jon Huntsman, and Mitt Romney's media appearances, Cain has largely been out of the mix. Last week, the DNC sent out more than 25 alerts attacking the aforementioned GOP frontrunners, not one mentioned Cain.

Today, however, the committee ramped up its focus on Cain, issuing a "Rapid Response" attack against his morning "Fox and Friends" appearance, during which Cain praised the Paul Ryan budget.

"I support Ryan's plan one hundred percent," Cain said. "We don't need to come up with another plan."
Another indicator of Cain's improving status is the establishment press's recent inclination to ignore him.
Example: Despite certainly knowing of the the Herminator's intensity-based first place with Gallup last week and his leading-the-field status(!) in a May 20-23 Zogby poll (HT Kerry Picket at the Washington Times), the Associated Press chose not to mention him in its story yesterday on the status of the race, even writing that "Tea party activists want one of their own."
Memo to the AP's Philip Elliott and April Castro: Herman Cain is "one of their own" (that sort of busts that "Tea Partiers are racists" mantra, doesn't it?), and your failure to mention him only shows that you and the DNC (but I repeat myself) are scared to death of his candidacy.