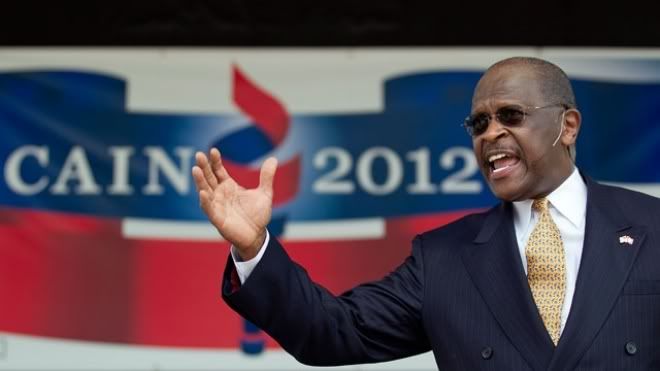 Congrats to Tim Graham at NewsBusters for writing up a post ("Are Time and Mark Halperin Racist? Herman Cain Omitted Twice in GOP Oddsmaking") linked by Matt Drudge (headlined "Time Magazine Ignores Black Candidate in Race") flagging an egregious and arguably deliberate omission of Herman Cain's name in Mark Halperin's coverage of the race for the GOP presidential nomination at Time Magazine. Tim noted that Halperin has handicapped the race twice (May 23 and June 6), but left Cain out each time.
Tim pointed out that Cain's omission is hard to forgive, given that Cain, whose background includes extensive business turnaround experience, a stint as Chairman of the Board of the Federal Reserve in Kansas City, and a number of years as President of the National Restaurant Association, as well as more current involvements with talk radio and Tea Party activism, "participated in the first presidential debate on May 5 to high praise and formally announced on May 21."
There are two additional items which make Halperin's second exclusion of Cain appear virtually smoking-gun deliberate:
In a Gallup survey released on Tuesday, May 24, more than likely a week before Time's June 6 issue was put to bed, Cain, as reported by Juana Summers at the Politico the next day, "Cain leads all his potential rivals in "positive intensity," calculated by measuring the difference between the potential candidates' strongly favorable and strongly unfavorable ratings." Gallup's graphic intensity representation is as follows:

For those unimpressed with intensity ratings for supposed unknowns, there's an IBOPE Zogby poll released on Monday, May 23, which shows Cain with an outright lead over the rest of the GOP field. Cain, Chris Christie, and Mitt Romney came in with 19%, 16%, and 11%, respectively. Every other candidate in the field polled at under 10%. Kerry Picket's reaction at the Washington Times: "Republican Presidential candidate Herman Cain star meter is rising among the field of GOP presidential primary candidates undeclared Republicans."
The point here isn't to assert that the items noted or Cain's debate performance prove that the Georgian is the front-runner. The point is that in the face of the data noted by Graham and now yours truly, you have to possess a special combination of one or more of the following four items — ignorance, arrogance, deliberate bias, and/or outright racism — to ignore Cain's presence in the race. Ignorance would appear to be a long shot, as it seems virtually inconceivable that a political reporter at Time Magazine would be completely unaware of all three items (the May 5 debate performance, the Gallup intensity poll, and the Zogby poll) demonstrating Cain's legitimacy as a candidate.
So, Mark Halperin, which one or more of the four items just mentioned explain your blatant, unprofessional oversights?
Cross-posted at NewsBusters.org.