In mid-April, a poor deluded lefty blogger at a site which started concentrating entirely on Ohio at about the time it became clear that attempting to defend President Obama and the Democrats in Washington was becoming an exercise in futility attempted to mount a defense of the Strickland administration's economic stewardship in the comments section here.
Comedy ensued:
My response was: "You can't POSSIBLY claim that this is the best economic recovery for Ohio since 1983 until the (federal government's) GDP by state report comes out later this year. FYI, so you can mark your calendar, it's coming out on June 7."
In case this idea of Strickland having engineered the "best Ohio recovery since 1983″ is popular in the fever swamp known as the Ohio Democratic Party and/or Ohio's establishment press (but I repeat myself), and since today happens to be June 7, let's look at the scoreboard (press release; PDF detail):

Some "recovery." If you want to see better post-recession performances on an annualized basis (the only version available at the state level), let's look at what Ohio did from 1991 to 1992 and 2001 and 2002:

Last time I checked, 2.2% and 4.6% were higher than the 2.1% shown for 2010 in the first graphic. Ohio's "recovery" is certainly not the "best since 1983."
Besides, there's no evidence that there even HAS been a recovery, because the Buckeye State's 2010 economy was still smaller than it was when the recession as normal people define it began.
Some may argue that the national recession as normal people define it straddled 2008 and 2009, and that a quarterly analysis might show that Ohio's economy really was bigger by the end of 2010 than it was in June 2008.
No way. That's because, as seen here, the total U.S. economy's GDP didn't get back to where it was in the second quarter of 2008 until the fourth quarter of 2010 — and only by the barest of margins (about 0.16%, or $13.381 trillion divided by $13.359 trillion). Since Ohio's GDP underperformed the rest of the US during every year in the time period involved, it's obvious that the state hasn't recovered what it lost. There has been no recovery.
Further, while the U.S. economy grew by a paltry 1.63% (compounded) during 2007-2010, Ohio's economy contracted by 3.37%. Ohio fell behind the rest of the nation by 5% while Ted Strickland presided over the state.
Well, we should give Ted a pass, because other states in the region performed just as badly, right?
Wrong. Four out of five of Ohio's neighbors actually grew between 2007-2010:
(not in graphic above) West Virginia (+6.27%), Pennsylvania (+3.28%), and Kentucky (+1.44%) outdid Ohio.
So did Indiana, as seen above (+1.37%).
Only Michigan (-6.35%, seen above) trailed.
Ohio's 2007-2010 economic performance was so bad that its -3.37% contraction came in fifth-worst among all 50 states and DC, beating out only Michigan, Florida (-4.63%; thanks for nothing, Charlie Crist), Arizona (-4.42%; thanks for nothing, Janet "Big Sis" Napolitano and the the open-borders crowd), and Nevada (-6.63%).
Yeah, California (-0.89%) really did outperform Ohio. It turns out that "Turnaround Ted" was the real economic Terminator.
Now let's look at job growth during the first 18 months after the 1991-1992 and 2008-2009 recessions ended: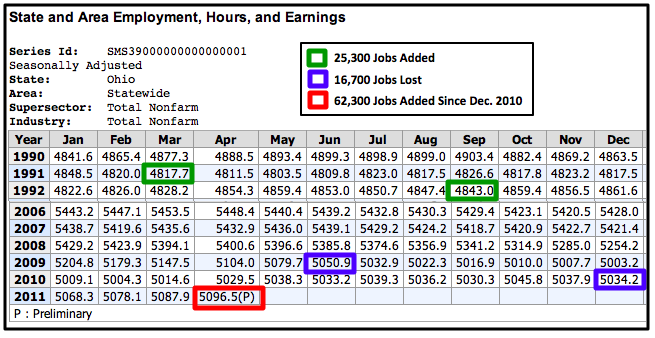 Between March 1991 and September 1992, Ohio's economy added 25,300 seasonally adjusted jobs. Between June 2009 and December 2010, Ted Strickland's final month in office, Ohio's economy lost 16,700 jobs. Again, there was no Strickland "recovery."
Although 2011 GDP data isn't available, during John Kasich's first four months in office, the chart also shows that Ohio has added twice as many seasonally adjusted jobs (62,300) as the state did during all of 2010 (31,000). Of course, it's early, seasonally adjusted data can be quirky, and four months is not a cause for premature e-celebration. But the idea that the January-April 2011 performance might be some kind of positive carryover from the glory days of Ted Strickland is really too much to bear. Far more likely is the idea that commenter Joe C's aptly named "Conservative Effect" is finally taking hold in Ohio.
Those who have caught "repeal SB5″ fever ought to be asking themselves if they really want Ohio to continue to be one of the nation's worst laggards.
_________________________________________
UPDATE, June 8: For those who believe that the 2010 advance numbers for GDP growth by state are too preliminary in nature, note that from 2007-2009 Ohio's economy shrank by 5.36%. That wasn't fifth-worst in the nation; it was fourth-worst.