In the week ending June 4, the advance figure for seasonally adjusted initial claims was 427,000, an increase of 1,000 from the previous week's revised figure of 426,000. The 4-week moving average was 424,000, a decrease of 2,750 from the previous week's revised average of 426,750.

… The advance number of actual initial claims under state programs, unadjusted, totaled 364,507 in the week ending June 4, a decrease of 16,990 from the previous week. There were 398,864 initial claims in the comparable week in 2010.
The year-over-year drop in raw claims was less than 10%.
Here are the past 14 weeks. Note that every week presented saw an upward revision or two to the original figure: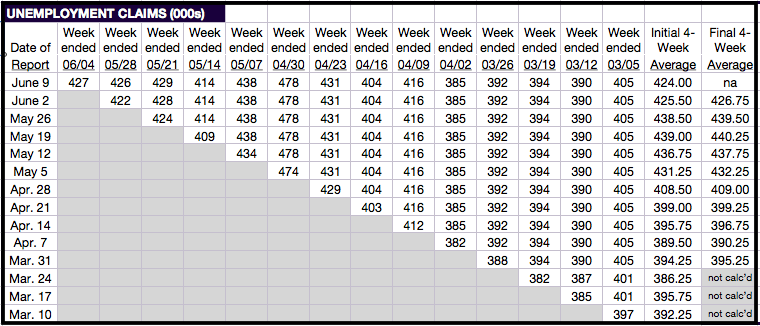 420k+ claims is not a recipe for decent job or economic growth.
_____________________________________________
UPDATE: Steve at No Runny Eggs noted in a previous post's comment that expectations were for 415K. Naturally.
UPDATE 2: At the Associated Press, in its initial 8:40 a.m. report, the big bad bogeyman of the recession's peak in weekly claims is back —
Applications typically must dip below 375,000 to signal sustainable job growth. They peaked during the recession at 659,000.
That was about 120 weeks ago, guys. Who cares?
UPDATE 3: Hmm — The 659,000-in-recession reference went away in Christopher Rugaber's longer replacement write-up at the same link at 9:02 a.m.