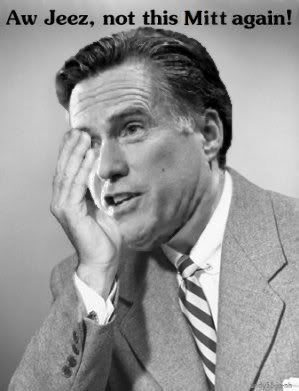 Rasmussen's specifics (HT Hot Air):
- Romney – 33%
- Bachmann – 19%
- Cain – 10%
- Gingrich – 9%
- Paul – 7%
- Pawlenty – 6%
- Santorum – 6%
- Huntsman – 2%
- Someone else – 8%
This is a very, very soft 14-point lead. Romney is the only guy many voters have heard of; Bachmann just announced; Cain's name recognition is still low; Paul's (and Cain's, and Bachmann's) supporters will never move to Romney; and, because of the RomneyCare millstone, most others will fiercely resist a move to Romney if/when any of the other guys drop out.
The biggest problem with Romney is obvious, and has been proven time and time again. I hope opponents will employ this five-word crystallization: He has no Constitutional compass.
___________________________________________
UPDATE: Romney has picked up the coveted Al Gore endorsement (internal link in original) —
Former Vice President Al Gore on Wednesday praised GOP presidential candidate Mitt Romney for his acknowledgement of global climate change.

Gore, who has championed climate issues since losing the 2000 presidential race, posted a note on his blog that praised Romney for being consistent on his position that humans have contributed to rising global temperatures.
Too bad the consensus appears to be moving towards a cooling earth.
UPDATE 2: Praise for Romney continues to pour in. Here's another — Unindicted terrorist funding co-conspirator CAIR is saying good things about the Mittster (HT Creative Minority Report via commenter Greg).
UPDATE 3: I also meant to note that Rick Perry's entrance would be more likely to take support from Romney and other establishment candidates (Pawlenty, Gingrich, Santorum) than from Bachmann, Cain, or Paul.