With the usual caveats (it's early, seasonal adjustments are quirky, data is subject to revision — and oh yeah, it's early), here is the list of the top 12 seasonally adjusted job-adding states this year in  terms of percentage added to the workforce: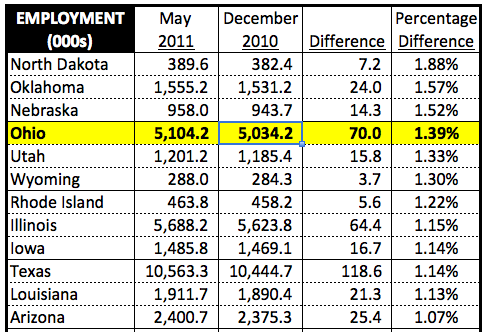 Well, well — Ohio is Number 4, trailing only oil-booming North Dakota, illegal immigration-reforming Oklahoma, and Nebraska.
Ohio's seasonally adjusted 70,000 jobs added is the third-highest total in the U.S., trailing only Texas and California (whose 73,000 jobs added represent only a 0.52% increase in the workforce).
Through the first five months of Ted Strickland's administration in 2007, while the economy in the entire country added 729,000 seasonally adjusted jobs and the nationwide unemployment rate averaged 4.5%, Ohio, which has over 3% of the nation's population, gained a whopping 8,000 jobs, or just over 1% of the total jobs added. In the first five months of 2010, Ohio added 35,100 jobs, barely half of the current year total.
During May through December of 2010, with minor ups and downs, the Buckeye States lost 4,100 jobs. No one can credibly claim that the outgoing Strickland administration left Team Kasich any kind of momentum.
Thus far, Ohio under John Kasich v. Ohion under Ted Strickland is a rout. The real competition is Ohio vs. the rest of the country.
Why would Ohioans ever want to go back to what we endured during the previous decade?