On Monday, USA Today compiled a list comparing the economic growth of the 50 states and DC during the past decade.
Two states shrunk up the place — Michigan (-7.1%) and Ohio:
This is a what a decade of blue-state governance will do (actually more, going back to George Voinovich c. 1995). I was heavily criticized in September 2008 when I wrote the following for the New York Post (BizzyBlog mirror):
Move on to Ohio … Though it went for Bush in 2004, state government has mostly acted blue since the mid-1990s, thanks to alleged GOP governors George Voinovich and Bob Taft. The Buckeye State moved from pseudo-red to largely blue in 2006, electing a Democratic governor, who has been aided and abetted by a mostly complacent GOP legislature.
The numbers don't lie. To Bob Taft, Ted Strickland, and worst of all, the Ohio Republican Party (whose members completely controlled the legislature for the decade's first eight years, and went the tax-and-spend route during virtually the entire time, and did nothing to prepare the state for hard times): Thanks for nothing.
More later, if time.
_____________________________________________
UPDATE: Showing that the Taft administration and the Republican-dominated General Assembly arguably performed worse than the Strickland administration during its six years of complete contol –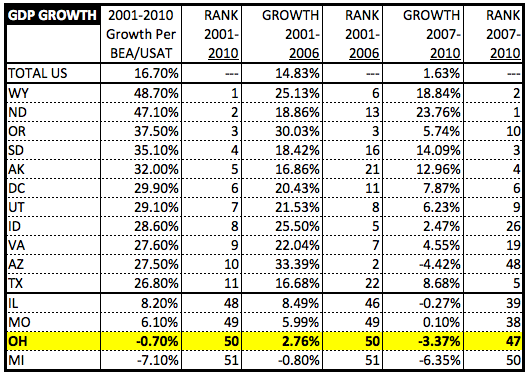 Ohio's economic performance during the last six years under Bob Taft, who had a GOP-dominated General Assembly during his entire time in office, trailed the national average by 12.07 points over six years, a 2.01-point average.
Ohio's economic performance during Ted Strickland's gubernatorial reign trailed the national average by 5.0 points over four years, a 1.25-point average.
As bad as the Ohio's economy was under Strickland (and it was really, really bad, with almost 400,000 job losses to boot), the its economy under Taft and the GOP-dominated General Assembly, when its growth is benchmarked against the rest of the country, was even worse.
Sort of shows why the Buckeye State needed "A New Way, A New Day," doesn't it?