The government's full report is here.
The updated Reagan vs. Obama scoreboard for the first seven post-recession quarters now reads as follows: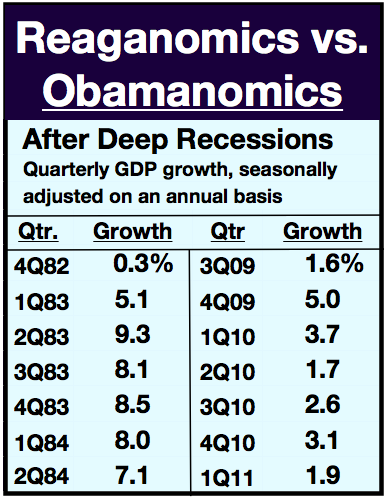 In the first seven post-recession quarters under Reagan, the economy grew by almost 12%. Under Obama? Just under 5%, barely getting back to where we were before the POR (Pelosi-Obama-Reid) Economy and the recession as normal people define it began.
In terms of sustainability, the economy under Reagan grew 7.9% during post-recession quarters 4-7. Under Obama? 2.3%.
The economy under Reagan zoomed along at more than triple the speed of the current economy. Economic policy choices matter. Millions of Americans are needless suffering with little solace in sight because the Obama administration has chosen the wrong ones, and won't move away from them.