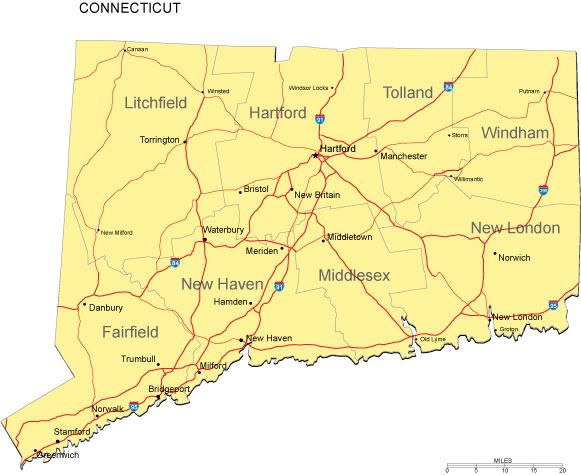 Susan Haigh's report Friday evening on the current status of budget negotiations between Connecticut Governor Dannel Malloy and the state's public-sector unions contains two glaring errors which mar the entire enterprise.
Haigh conveniently withheld the fact that the Nutmeg State's legislature has already approved $2.6 billion in new taxes over two years until her report's final paragraph, while giving voice in a much earlier paragraph to an absurd union demand that "big businesses and wealthy taxpayers would be asked to pay more if they agreed to givebacks." Uh, the taxes have already happened, guys. She also dramatically understated the objections of state residents to the over 75(!) new taxes which have been imposed.
Here are excerpts from Haigh's hijinks (bolds are mine):
Unions scuttle Conn. budget deal; layoffs eyed

A state employee union vote on Friday scuttled a labor-concessions package that Gov. Dannel P. Malloy was counting on to balance a two-year state budget, setting the stage for cuts that could include thousands of layoffs.

The new Democratic governor, who has prided himself on being more pro-union than some of his Republican colleagues across the country, had offered workers four years of no layoffs in return for a two-year wage freeze and changes to health and retirement benefits. But ultimately there was not enough support to clear the high bar set by union rules to make changes to a coveted, 20-year contract that's not set to expire until 2017. [1]

With the deal rejected, Malloy said he had no choice but to begin issuing layoff notices to as many as 7,500 employees. He said the number could be higher if there's a delay.

… The deal reached between Malloy and union leadership was supposed to save $1.6 billion in the two-year, $40.1 billion budget that takes effect on July 1 and covers a $3.3 billion deficit. Malloy has called the General Assembly back to the state Capitol for a special legislative session on Thursday to seek more budget-cutting authority to balance the plan and possibly make cuts.

… As of Friday afternoon, more employees – at least 60 percent – had voted in favor of the tentative agreement than opposed it. But the deal died because of the union coalition's rules, which requires 14 of the 15 unions to support any change to the retirement and health care benefits package that it negotiates. In this case, 11 unions had voted in favor of the agreement while two opposed it. [2] Two unions were still voting on Friday.

(Paragraph 15)

… State employees had various issues with the deal, with some saying they wanted promises that big businesses and wealthy taxpayers would be asked to pay more if they agreed to givebacks. [3]

… Malloy, who received strong support from state employee unions during last year's close gubernatorial election, has said for months that he didn't want to lay anyone off and has made a point of talking about how he respects the workers' collective bargaining rights. He often contrasted himself with the governors of Wisconsin, New Jersey and Ohio who have been at odds with organized labor.

(Paragraphs 19 and 20)

… Rejection of the labor deal is the latest political blow to Malloy, whose popularity has suffered because of his approach to solving the budget deficit. A Quinnipiac University Poll released last week shows that 38 percent of voters said they approve of the job Malloy is doing as governor while 44 percent disapprove.

Many voters have voiced concern over how the budget raises taxes by $1.4 billion in the first year and $1.2 billion in the second. Many of those tax hikes kick in on July 1.
Notes:
[1] — A 20-year contract? How can anyone have agreed to a 20-year deal in 1997? If this doesn't prove that government involvement freezes the status quo, I don't know what does. So this is how the state got to the point where its "debt-per-capita ratio is the highest in the country, according to Moody's." The fact that the 20-year monstrosity was consummated while ultimately disgraced Republican Governor John Rowland was in charge should not be overlooked.
[2] — So much for labor's belief in "democracy." The majority of workers are okay with the deal but if only two unions out of 15 aren't, the deal doesn't get done.
[3] — Some of the tax increases going into effect on July 1, according to one of the state's representatives, include: Income tax increases in all brackets; Sales tax increase, from 6% to 6.35%; Clothing under $50 now subject to sales tax; New tax on non-prescription drugs, vitamins, manicures/pedicures, yoga; Increased taxes on hotel rooms, cigarettes, alcohol; Expansion of the gift and estate taxes; Conveyance tax increase; Real estate conveyance tax made permanent; Decrease of $200 in property tax credit; Diesel fuel tax increase from 26¢ to 29¢; Increase in driver's license and vehicle registration fees; Hike in corporate surcharge tax. After perusing the Tax Foundation's take on Connecticut even before the tax increases just noted, two words best describe the state's tax system: "punitive" and "disastrous."
[4] — Haigh's notice of taxpayer "concern" over the state's tax increases is a monumental understatement. On June 15, the Wall Street Journal's Shelly Banjo reported on poll results showing that "More than half of Connecticut voters are angry over the way the governor handled the state budget, specifically in his choice to impose more than 75 new taxes." Seventy-freaking-five? Is there anything left that isn't taxed?
In a headier moment earlier this year, Governor Malloy described himself as the "anti-Christie," pointedly mocking New Jersey's Chris Christie for pursuing structural reform in the state's financial and bargaining relationship with its public-sector unions. Malloy is learning the hard way that Christie's approach works, and that depending on the unions to voluntarily give back anything doesn't. Sadly, when push comes to shove, union leadership, especially in the public sector, is all too often okay with layoffs of less senior members if it will preserve the plush benefits — and perhaps increase the overtime — of those who remain.
I wonder how much news Connecticut's layoffs, if they come to pass, will generate in comparison to the avalanche of coverage given to Wisconsin Governor Scott Walker's reforms, which "just so happen," as far as I can tell, to have resulted in no mass layoffs?
Cross-posted at NewsBusters.org.