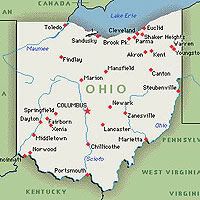 I just received what follows below from Ohio's House Republicans, and am choosing to publish it in its entirety.
While there will perhaps be time to quibble later (it's no fun if we don't reserve the opportunity to do that :–>), the importance of the overall accomplishments noted in what follows should not be underestimated, and should, after well over 15 years of de facto blue-state governance, be savored (bolds are mine):
Ohio House of Representatives Passes Historic Budget that Prioritizes Education, Job Creation in Ohio
$8 billion deficit closed without raising taxes

COLUMBUS—Maintaining a promise that was made during the previous General Assembly, the Ohio House of Representatives today passed a sustainable, fiscally responsible budget bill, marking a historic effort to successfully fill an $8 billion budget deficit without raising taxes on Ohioans.

Substitute House Bill 153, in addition to improving government efficiency and making Ohio more economically competitive, makes significant investments in the programs and services that matter most to Ohioans, while at the same time respecting and protecting Ohio's taxpayers.

"After a challenging three and a half months of thoughtful debate and consideration from members on both sides of the aisle, today we took a momentous step toward a leaner, more cost-effective state government," said Speaker of the Ohio House William G. Batchelder (R-Medina). "Throughout this process we have kept the interests of Ohio's families and the middle class at the center of the debate, ensuring that we didn't increase their tax burden at a time when they are least able to afford it."

To retain Ohio's small businesses, assist family farmers and encourage retirees to remain in Ohio, the Ohio Legislature included a provision in Sub. H.B. 153 to eliminate the estate tax in its entirety effective January 1, 2013. In total, Ohio's taxpayers will save nearly $1 billion over the biennium through the Legislature's efforts to reduce government waste and reconfigure the allocation of scarce financial resources.

The budget also establishes InvestOhio, which strives to spur new investment in Ohio and enhance innovation by rewarding major investments in the state. It would exempt any Ohioan who invests in an Ohio company and holds that investment for at least two years from paying state income taxes on its gains. Additionally, if an individual utilizes the gains from selling a stock to reinvest in an Ohio company and retains that investment for a two-year period, they may apply for a refundable state tax credit related to that original sale of shares.

"Creating jobs, encouraging investment in Ohio's small businesses and making it easier to do business in Ohio were some of the primary objectives of this budget," said Chairman of the House Finance and Appropriations Committee Ron Amstutz (R-Wooster). "We took significant steps toward making Ohio a role model for the rest of the nation in an effort to revitalize what has been, in recent years, a struggling economy. We're transforming the way the state of Ohio operates, solving the current structural imbalance without raising taxes. This is how an effective, responsible government should operate."

Sub. H.B. 153 holds education paramount and uses existing funds to provide in-state college tuition rates for Ohio high school graduates who have left the state within the past 10 years, which would incentivize their return to the state. Moreover, the budget adds more than $100 million in additional dollars over the executive version to the school foundation formula and guarantees that no district receives a cut in state aid.

The Legislature also expanded the value of and the eligible participants in the Cleveland Voucher Program to make education more affordable and to untie the hands of low-income families. The budget also increases the number of EdChoice Scholarship Program vouchers to 14,000 to 60,000 in fiscal year 2013 and increases the charter school sponsorship cap to 100.

"When the State of Ohio brought in increased revenue, we decided to invest those dollars in Ohio's schools and give them an additional boost in their state aid," said Vice-chairman of the House Finance and Appropriations Committee John Carey (R-Wellston). "Through this budget, we continue to capitalize on the opportunities before us and invest in the things that matter. At this time, we believe that our schools need the additional dollars so we can ensure that Ohio's students receive a quality education, even during this difficult economy."

The Legislature prioritizes protecting Ohio's most vulnerable citizens by investing $31.3 million in fiscal year 2012 and $63 million in fiscal year 2013 over the executive budget in PASSPORT for seniors and allocating an additional $7.5 million for mental health services. Funding for Second Harvest Food Banks increases by $1 million annually to provide food and resources to people in need. Additionally, the budget provides for kinship care funding at $6 million over the biennium.

Moreover, the budget provides $400,000 for the State Medical Board to fight prescription drug abuse, which has become increasingly prevalent, particularly in southern Ohio.

"The 2012-2013 budget means more than just an allocation of money for the biennium—it is an outline of our state's priorities now and in the future," said Amstutz. "In addition to promoting a better state economy and investing in our schools, the budget also safeguards Ohio's citizens and promotes a better quality of life in Ohio."

Putting education—as well as job creation and economic growth—first in this budget, the Ohio Legislature devoted an unwavering commitment to responsibly filling the multi-billion dollar budget deficit that was inherited from the previous administration.

Speaker Batchelder, Chairman Amstutz, and Vice-chairman Carey would like to thank Governor Kasich and the Ohio Senate for their continued hard work and collaboration on Sub. H.B. 153. They are also appreciative of the many citizens and interested parties who testified before the committee to help make the budget a better, more comprehensive bill.

"This budget has been a long and, at times, difficult process, but I could not be more pleased with this bill or the diligence that went into construction of this budget," said Batchelder. "We've taken great strides toward making Ohio a better place to live, work, raise a family and start a business—but to paraphrase my good friend in the Governor's Office, you ain't seen nothing yet."

Sub. H.B. 153 now awaits the governor's signature.
Related: Ohio's Lost Decade, and Its New Hope