Wow (I would give a HT to WorldNetDaily but they didn't link to Zogby, so I had to fish for it; the heck with them):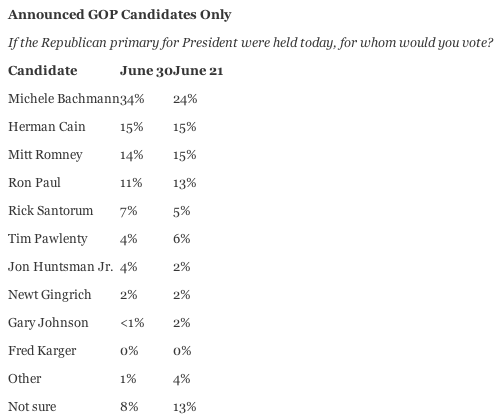 Also: Check this out from Gallup back on June 14 –
Seven prospective GOP presidential nominees participated in the nationally televised debate at St. Anselm College in New Hampshire, including Rick Santorum, Tim Pawlenty, Newt Gingrich, Ron Paul, and Herman Cain, in addition to Bachmann and Romney. Any impact of the debate on Republicans' views of the candidates would not be reflected in Gallup's May 30-June 12 daily tracking update.

Bachmann's 62% recognition score is up from 52% earlier this year, but has not changed in recent weeks. Her current Positive Intensity Score is essentially tied as the second highest for the 10 candidates Gallup tracks, although down from her high of 23 in mid-May.

… (Romney's) Positive Intensity Score among Republicans who recognize him has risen to 19, his highest since late March/early April. Romney's and Bachmann's Positive Intensity Scores remain well behind Herman Cain's 28, although Cain's 41% recognition is significantly lower than Bachmann's and Romney's. Romney is known by 84% of Republicans.
To get to his intensity score of 28, Herman Cain was viewed favorably (net of strong favorables minus strong unfavorables) by 69% of those who are aware of him (69% x 41% equals 28.3%), blowing away the other candidates by miles. "Phenomenal" doesn't even begin to describe that performance. No other currently contending candidate tops a net 30% favorable:
Bachmann — 62% awareness times 29% net favorable = 18 Intensity
Romney — 84% awareness times 23% net favorable = 19 Intensity
Palin — 95% awareness times 16% net favorable = 15 Intensity
Pawlenty — 54% awareness times 20% net favorable = 11 Intensity
Thus, Cain has a (relatively) nice but still significant problem: All he has to do is get known. Once most GOP voters know him, they love him — to paraphrase the misquote of Sally Field, they really, really love him. Most of the rest are already known, and many voters have already made up their minds about them.
__________________________
UPDATE, July 6: The roster of those who would more than likely never vote for Romney constitutes a clear majority (60%) of those polled. That would include Bachmann's 34%, Cain's 15%, and Paul's 11%.