Or, as I've been saying for 18 months: "Rebound? What Rebound?"
From SOBer Alo at Brain Shavings, with appropriate embedded editorial commentary: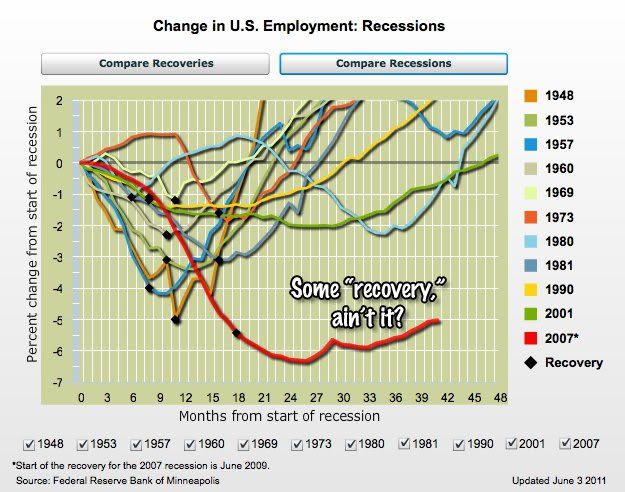 If I had designed it (which I didn't; the Minneapolis Fed did), I would have started the current graph at June 2008 instead of December 2007 to reflect when the recession as normal people define it and the POR (Pelosi-Obama-Reid) Economy began.
The first six months of the "recession" as drawn up above are historically mild, and there's no reason why the real recession which followed had to be as severe as it was. But, as I said in my most recent Pajamas Media column, "Revisionomics":
… in the five months or so leading up to the 2008 presidential election, Pelosi, Obama and Reid deliberately frightened the economy's key players with promises of steep tax increases, wealth redistribution, government control of medicine, punitive regulation, and energy starvation.
The rest is history. As BizzyBlog commenter "JoeC" told us four years ago (with a bit of paraphrasing by yours truly), it's a vivid illustration of "The Democrat Effect: the rational response by entrepreneurs, businesspeople, and investors to imminent or already present excessive government intervention, overbearing regulation, crippling litigation, and taxation, all of which seriously curtail economic activity."
Those in the administration and the establishment press (but I repeat myself) who try to deny that the economy is worse now than when Barack Obama was inaugurated are essentially saying that the red line's Month 41 is better than its Month 13. They are willfully blind in one eye and deliberately won't see out of the other. As contributors to a meaningful debate about solution or providers of information, they are useless.
__________________________________________
UPDATE, July 9: At the Economic Collapse Blog — "Rampant Unemployment = The Death Of The Middle Class – 40 Facts That Prove The Working Class Is Being Systematically Wiped Out."