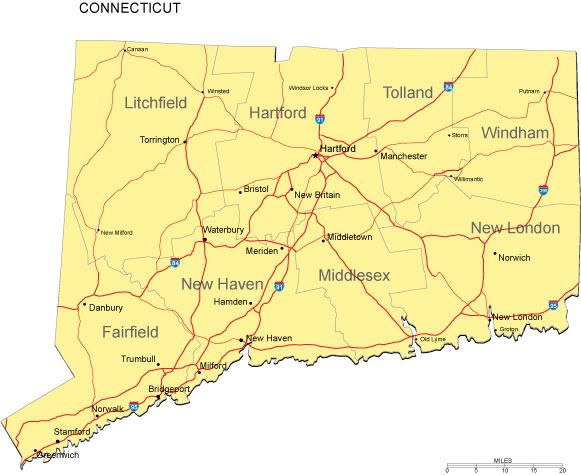 Looking for updates on the Connecticut state budget mess earlier this afternoon, I searched the Associated Press's national site on the last name of Democratic Nutmeg State Governor Dannel Malloy, and found nothing recent (graphic saved here for future reference).
But there were two stories originating from the state which the wire service, the nation's de facto news gatekeeper, deemed worthy of national attention. Brace yourself.
Yesterday afternoon ("Illegal immigrant in-state tuition begins in Conn."), reporter Stephen Dockery virtually celebrated the fact that "illegal immigrant Maria Praeli can consider going to college fulltime" because she can "can now qualify for in-state tuition at Connecticut's public universities under a law that took effect last week." The law will reduce Ms. Praeli's tuition costs "by as much as $17,000 annually for undocumented students such as Praeli." Governor Malloy, who signed the bill, is apparently quite pleased, as evidenced in this AP quote: "These are children who live in Connecticut, contribute to our economy and are part of the fabric of our state. This bill isn't controversial, it's common sense."
The second national story submitted by Stephen Singer on Tuesday trumpets the news that the state has become the first in the nation to require employers to "the first state to require companies to provide employees with paid sick leave." Singer's report appears to indicate that Malloy is more than a little concerned about actively joining in the hallelujahs:
The measure requires businesses in the service industry with 50 or more employees to allow workers to accrue one hour of sick time for every 40 hours worked. Backers estimate that between 200,000 and 300,000 workers will benefit. Opponents said the law will make Connecticut less competitive.

… Malloy's signature was expected, but the absence of a gathering to mark the first-in-the-nation law took its chief legislative backer by surprise. He signed the bill into law Friday but didn't announce his action until Tuesday.

A Malloy spokesman said the governor might schedule a ceremonial bill signing, but right now is putting his stamp on bills as they reach his desk.

Malloy, a Democrat, made his support of paid sick leave a campaign issue last year, saying it was to safeguard public health. He persuaded wavering lawmakers to vote for it, Prague said.
From what is reported, the law appears to apply to all employees, even part-timers. Lord have mercy on Connecticut's employers.
Gee, I wonder if either of these stories has any relationship to why Connecticut's budgetary situation is a complete mess, why its business climate ranking is almost the worst in the nation (#47, per the Tax Foundation), and why its Tax Freedom Day of May 2 is the latest in the entire country?
But "somehow," the budget mess isn't deemed worthy of national carriage in AP-Land. Nor is it making much news anywhere else. A Google News search from July 5-8 on "Connecticut layoffs Malloy" (not in quotes) returns only 56 stories (the first page says 875, but it's really only 56 without duplicates).
Malloy's mess originated with tax increases passed in anticipation of promised public-sector union givebacks to complete the closure of a multibillion-dollar budget gap. The taxes are already in effect, but the givebacks aren't happening. A not nationally syndicated report from this afternoon by the AP's Susan Haigh gives away a likely reason why the establishment press might be keeping a lid on this, namely appallingly antidemocratic union contract hurdles which make givebacks virtually unachievable:
Gov's aide to talk with Conn. unions about rules

Connecticut Gov. Dannel P. Malloy said Thursday that he has directed his chief labor negotiator to reach out to the state employee union leaders and learn how they plan to change their process for approving a labor savings and concessions agreement.

Malloy, in a telephone interview with The Associated Press, said he "needs to understand what a road to an approval process is" and whether the State Employees Bargaining Agent Coalition will make any clarifications to the current rules.

"I don't see any way that further discussions would be justified if the same approval process is what applies," Malloy said.

SEBAC leaders sent Malloy a letter on Tuesday, asking to "reconvene discussions" with the Democratic governor's administration in an effort to stop approximately 6,500 looming state employee layoffs.

Union leaders, who represent about 45,000 workers, have been struggling to find a way to avoid the layoffs after the membership last month rejected a labor-savings deal.

Four of the 15 SEBAC unions voted against the deal. A total of 57 percent of the votes were in favor of it, but under the coalition's current bylaws, at least 14 of the 15 unions have to vote to support any changes to the coveted, 20-year health and retirement benefit agreement that's in place until 2017.

… "We spent 60 days negotiating an agreement that was ultimately good for everybody, short-term-wise and long-term-wise, and clearly the process requiring all but one union to vote for it and representing 80 percent of registered membership is unlikely to be met in the future, based on the process," Malloy said.
To absolutely no one's surprise, Haigh doesn't mention the tax increases which were enacted with the promise of givebacks.
Does anyone else besides yours truly think that Malloy should have known how nearly impossible achieving givebacks would be before blithely pushing through tax increases and arriving at the current impasse? (Or worse, did he know the givebacks would almost certainly not happen and push tax increases through anyway?)
Wisconsin's situation was national news for months. Chris Christie's breakthrough budget in New Jersey made national news. The mess created by Malloy, who in headier days referred to himself as "the anti-Christie" — y'know, the guy who could get a state's house in order and keep public-sector unions operating under an "are you kidding me?" 20-year contract unscathed — should also be a national story. The situation certainly has national lessons.
Cross-posted at NewsBusters.org.