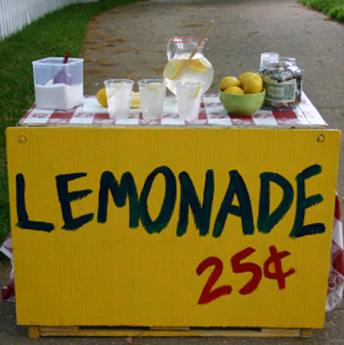 Can anyone in Midway, Georgia take money for or even borrow food without risking arrest?
If you're in Midway, you'd better not let your neighbors reimburse you for any homemade food you cook or grow, or you might get busted for not having "a business license, peddler's permit, and food permit to set up shop, even on residential property." Heck, you may have to worry about even giving your output away.
That's where you have to go with the "logic" of a story from Maura Kennedy at TV station WJCL (HT AP; bolds are mine; video is at link, where, in an unusual choice of priorities, this was apparently the lead story):
Midway Police Shut Down Girls' Lemonade Stand

Midway police bust none other than a lemonade stand, because the three girls running it didn't have a business license. The three girls thought if they sold enough lemonade, they could make money to go to the water park Splash in the Boro. Well they thought wrong. Midway police say, they're breaking city law and have to go.

"It's kind of crazy that we couldn't sell lemonade. It was fun, but we had to listen to the cops and shut it down," 14-year-old Casity Dixon said.

The girls had only been opened for one day before Midway's police chief and another officer cruised by and saw the stand.

"They told us to shut it down," 10-year-old Skylar Roberts said.

"We had told them, we understand you guys are young, but still, you're breaking the law, and we can't let you do it anymore. The law is the law, and we have to be consistent with how we enforce the laws," Midway Police Chief Kelly (actually, Kelli — Ed.) Morningstar said.

By a city ordinance, the girls must have a business license, peddler's permit, and food permit to set up shop, even on residential property. The permits cost $50 a day and a total of $180 per year. City officials said it's their job to keep everyone safe and healthy, and there can be no exceptions to the rules.

"We were not aware of how the lemonade was made, who made the lemonade, of what the lemonade was made with, so we acted accordingly by city ordinance," Chief Morningstar said.

… So the law wins, and what started out as three girls' dream of a fun summer business is now just a piece of plywood.

Since the lemonade stand was shut down, the girls have been doing extra chores and yard work to make money for the water park.

The city ordinances relating to what it takes to be able to do business and be a "peddler" in Midway, Georgia (population: "just over 1,100") is described at the city's web site here — in well over 2,000 words.
It's the "even on residential property" part that's stunning, especially if it's construed to include "inside your home." Ms. Kennedy, who did an otherwise good job with the story, should have pursued that angle with Midway's, uh, finest. I assume she still has that opportunity, and hope she does.
Taking Chief Morningstar and the Midway ordinance as described at their word, you're technically breaking the law if you sell or get reimbursed for anything you make or grow in your own kitchen or backyard. Heck, you could be in trouble even if you give it away. After all, if the town's busybodies and their chief law enforcement officer don't know how it was made, don't know for sure that you made it, or don't know what it was made with, they think there's a problem.
The AP at this point has essentially done a short excerpt of the WJCL story. Perhaps The Essential Global News Network might deign to inform us how many other U.S. cities have similar nanny state food and drink ordinances.
It's nice that the girls are finding alternative means of raising money, but it's also a harsh lesson to Midway, Georgia residents and those who live in locales with similarly stupid measures. The message is that the government doesn't trust you to choose the food you eat, or the refreshments you'll drink without their statist oversight.
Cross-posted at NewsBusters.org.