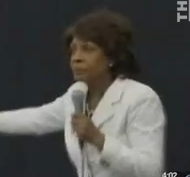 Well, the extent to which this one gets nationally noticed should be interesting.
Yesterday, at a high school gym in Inglewwood, California,  at what was billed as a "Kitchen Table Summit," as seen in a video currently showing at both MRC-TV and Breitbart, Congresswoman Maxine Waters said, "As far as I'm concerned, the Tea Party can go straight to hell." The crowd, reportedly "more than 2,000 people," cheered her statement.
We're already through one overnight news cycle at the Associated Press, and I found nothing relating to this outburst at its home page in a search on the congresswoman's name. The one item listed is a day older, and even that one is sanitized. Referring to Waters's appearance at a Congressional Black Caucus summit in Detroit last week, the AP's Ken Thomas, with assistance from AP Deputy Polling Director Jennifer Agiesta, only reported that Waters told those in attendance that, "Our people are hurting. The unemployment level is unconscionable." Many of those who follow New Media know the real news was Waters virtually begging her audience, and by inference African-Americans in general, to "unleash us" (the Caucus) to complain about President Obama's failure to address the economic needs of the black community. (Don't worry, Maxine, he's an equal opportunity ignorer).
A Google News search on ["Maxine Waters" "go straight to hell"] (typed exactly as incidated between brackets) covering the past two days returned all of five items at the following mostly nonestablishment locations: Huffington Post, Daily Caller, ABC7 in Los Angeles, Contra Costa Times, and an LA Times blog. That's far from impressive.
As to the media getting cold feet and avoiding the H-word, spare me the sudden prudery. Google News Archive searches on [Republicans "go straight to hell"] and [Democrats "go straight to hell"] returned 104 and 68 results, respectively.
If this one doesn't get wide establishment press coverage, it will be because they will have seen the perceived negative risk of average people finding out the left's true mindset as too high.
Cross-posted at NewsBusters.org.