This is the seventh year I have looked into how the media treats two Christmas-related topics: The use of "Christmas shopping season" vs. "holiday shopping season" and the relative frequency of "Christmas" and "holiday" layoff references.
Unfortunately, the hints of improvement late last year, when 20% of stories in the late December pre-Christmas search referenced the "Christmas shopping season," largely disappeared this year. Well, at least the combined results of this year's three sets of searches (at Google News, done shortly before Thanksgiving, about two weeks later, and a few days before Christmas) show that last year's overall gains compared to the two previous years held. But, as will be seen after the jump, news reports still use the term "holiday shopping season" seven times as often as "Christmas shopping season."
Here is the annual rundown:
As I pointed out last year, news descriptions of the shopping season run directly counter to poll respondents' expressed reason as to why they are shopping and their stated preference as to how they wish to have merchants greet them. This year, Rasmussen found that "90% will be celebrating Christmas in their family," and that "70% prefer that stores use signs that say 'Merry Christmas.'"
The following graphic worked up last year shows that the press vs. public disconnect has not always been present, even at the selectively ultrasensitive New York Times: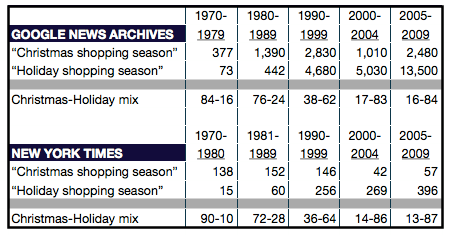 In the 1970s, the Times preferred to reference the "Christmas shopping season" even more than the rest of the press tracked by the Google News archive, and used "Christmas" over nine times as often. By the last half of the previous decade, it preferred "holiday shopping season" even more than the rest of the press.
This year, in a tiny improvement, an advanced Times search on "Christmas shopping season" (in quotes) from October 22 to December 22 (in sync with the total timeframe of the Google News Archive searches described above) returned six results. The same search on "holiday shopping season" returned 28, or 82% of the total.
In a great column written with a broader theme last week, Tim Wildmon of the American Family Association called out retailers for their self-evident double standard (bolds are mine):
The American economy depends heavily on people buying other people Christmas gifts each year. That is why the idea of "holiday" shopping is so ridiculous. No one buys gifts to celebrate Thanksgiving Day. The kids don't run downstairs at 5:00 a.m. on New Year's morning. Overwhelmingly, Americans exchange gifts with friends and family precisely because it is Christmas. Ask American retailers and they will tell you — it's the most wonderful time of the year. It is hypocrisy of the highest order for retailers to make their living from Christmas sales, and yet be too politically correct to even acknowledge that fact in their advertising, pretending that people are "holiday" shopping.
The same goes for the press's "Christmas"-avoiding coverage.
Parting question: When's the last time anyone asked a kid why they wanted Santa to bring them for "holiday"?
Cross-posted at NewsBusters.org.
_____________________________________________
BizzyBlog Update: The annual rundown for "layoffs," which is not in the NewsBusters post, is as follows –
The press is twice as likely to mention Christmas in a story about layoffs as it is in a story about "shopping" — down, for what it's worth and for whatever reason, from about 2-1/2 to three times as likely from 2005-2009. My speculation would be that 2005-2009 layoffs could be pinned on Bush, making the press more inclined to tie them to Christmas.