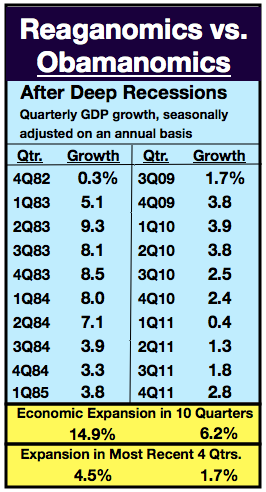 And when you do, as seen at the right, there is no comparison.
James Pethokoukis at the Enterprise Blog elaborates:
Housing is usually a key contributor to GDP growth during the early stages of a recovery. As a 2011 St. Louis Fed analysis points out, "Somewhat surprisingly, the housing component of GDP (more formally known as residential investment) tends to be a solid contributor to GDP growth during a recovery. Historically, residential investment has contributed only about 5 percent of GDP—a small share considering the consumption component is close to 70 percent. Nevertheless … it can contribute substantially to the GDP growth rate for short periods of time."

According to Commerce Department data, residential investment added 1.33 percentage points to GDP in 1983, 0.64 in 1984. By contrast, residential investment subtracted 0.11 percentage point in 2010 and 0.03 in 2011.

But here's the thing: Subtract the housing rebound from the Reagan Recovery and GDP still grows twice as fast as during the Obama Recovery.
Reagan also had to get the economy going when the Fed's prime rate was around 20% (vs. 3.25% now), when inflation was roaring (from December 1979 to December 1980, prices increased by 12.5%), and a decaying employment market (which continued to do so because Congress pushed off the effective date of Reagan's supply-side tax cuts to October 1981; the 1981 cut of 5% didn't take effect until October; spread over the full year, it was really only 1.25%, which was not enough to mean anything. The real effect of the cuts didn't kick in until January 1982).
The best way to look at the lack of meaningful recovery is to do the math on where the economy was when the recession officially ended, and to then look at where we are now compared to where we could and should be:
Second-quarter 2009 GDP was $13.85 trillion.
Having grown by 6.2% in real terms in the meantime, current GDP in second-quarter 2009 dollars is $14.71 trillion.
If the economy had instead grown at the 14.9% rate seen under Reagan (it actually should have done better, because the most recent downturn was deeper), current GDP in second-quarter 2009 dollars would be $15.92 trillion.
We could be (really should be) at a place where annual economic output is $1.21 trillion higher ($15.92 minus $14.71). That's a difference of over $3,900 per year ($75 per week) for each man, woman and child in America, or about $10,000 for every U.S. household. (Figures would be slightly higher in fourth-quarter 2011 dollars.)
We should be mad as hell at this administration for choosing policy prescriptions which failed during the 1930s (and have failed in Old Europe for decades) when it could have chosen the ones which worked in the 1980s (and the 1960s, and to a smaller extent the middle half of the previous decade).