Wednesday, on the anniversary of Donald Trump's election, CNBC's Closing Bell gave the network's Rick Santelli a bit of an "I told you so" moment. A year ago, contrary to the chorus of naysayers who took it as a given that Trump's victory would be disastrous for the markets, Santelli correctly predicted strong, sustained market performance.
It's important to understand why Santelli was right, and why he remains right, despite President Trump's difficulties in enacting his legislative agenda.
The gloom-and-doom crowd included Paul Krugman at the New York Times, who infamously responded to the sharp drop in the pre-market indices shortly after it became clear that Trump would win on Election Night by claiming, "If the question is when markets will recover, a first-pass answer is never."
The Dow Jones Industrial Average closed higher the very next day. As of Wednesday's close, the Dow, S&P 500 and the NASDAQ were all up by over 28 percent, over 21 percent, and over 30 percent, respectively, from their 2016 Election Day closes.
In the video which follows, we will see a flashback to Santelli predicting a bull market if the newly elected president carries out the agenda he promised. Then we'll see him make important points about the role of expectations — both positive ones concerning the new administration, and the dashing of negative expectations which had been baked into the markets before Hillary Clinton was defeated.
Finally, we'll see Steve Grasso note that the year-long rally and the accompanying improvement in corporate earnings have taken place even though much of Trump's agenda is stalled in Congress. Why? Because the Trump administration has, as was anticipated, improved the regulatory environment businesses face:
Transcript (from 0:14 through 2:08; bolds are mine):
BILL GRIFFETH, CNBC: And Rick, this is what you said a year ago right now about the markets on Election Day.

(Flashback to November 8, 2016)

RICK SANTELLI: Just think about the most unlikely outcome: Republican House, Republican Senate, and Donald Trump wins. Isn't that the shortest route to lower taxes? So he says. Less regulations? So he says. I don't know, every guest we have says those are bullish for the stock market.

(back in studio)

KELLY EVANS, CNBC: And Rick, they've been pretty bullish, haven't they, for the stock market?

SANTELLI: They absolutely have. You know, I find today in all the various discussions, so fascinating. Just some little things.

First of all, he didn't take office on November 8, but the rally took hold on November 8.

GRIFFETH: Right, right.

SANTELLI: In my opinion, there's two months there where no policy was made. There is something. And Donald Trump has a right — I wouldn't handle it that way — but he has a right to make this claim.

Because if you look at all the global equity markets, from November 8 (2016), none of them rallied like we did. The Nikkei, a lit bit. But they all basically, the DAX (Germany) the CAC (France), they all went down.

It was about eight weeks after that that they started to rally. We pulled them up. Now you could argue, "It can't be policy." There's something there. And it's the "there" that nobody seems to be interested in.

And I still contend, you have a Republican House, a Republican Senate, a Republican President — kind-of-Republican President, you can debate that sometime.

But in the end, it isn't about what they're doing. It's about the Democrats that didn't win, and what they were unable to do. And I still say that is a huge issue, especially if you're trying to trade the stock market, and handicap it against what's going to turn out to be tax policy plus, or tax policy like repeal and replace.

So these are big issues.
The next guest, Chris Cordaro, tried to make the case that the past year hasn't been a Trump rally. Instead, he claimed that it's been a "corporate America rally," and that the growth in corporate earnings "just happens to coincide with when Trump took office."
Grasso did the reality check on Cordaro's claim (beginning at the 2:40 mark):
STEVE GRASSO: But to Rick's point, you cannot offset that when he (Trump) was elected in November, the markets saw that. It wasn't corporate America. It was corporate America that was looking at a lower regulatory environment, and all of these other things that eventually could be done.

The key though, to Rick's point, I agree with him 100 percent, was that, is that everyone will come back and say, "Well, nothing's gotten passed. Nothing's been done." Right. But there's less regulation. So never underestimate the power of a lower headwind, a lower headwind, more tailwinds, when you look at the regulatory environment that we're looking at when we've been looking at the same thing for eight years prior. There's no (other) reason why the market would have ripped in November (2016).
In other words, per Grasso and Santelli, the markets rallied after Trump's election because businesses anticipated that the regulatory onslaught would be reined in (Grasso), and because businesses expected that the atmosphere of hostility seen at the EPA and so many other federal agencies would dissipate because Hillary Clinton and the Democrats lost (Santelli).
A graph produced by the Heritage Foundation in its 2016 "Red Tape Rising" report shows that through 2015, new Obama administration regs with costs of $100 million or more took effect at an annual pace averaging 132 per year during the six years from 2010 to 2015: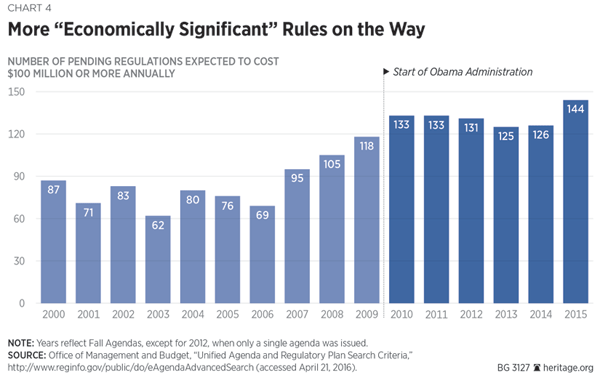 That average is over 50 percent greater than the annual average of 86 seen during the previous ten years. The situation certainly didn't get any better in 2016, especially given Team Obama's well-documented last-minute regulatory rush seen during its final months in office. The markets' relief at Clinton's loss was quite understandable.
Though Trump is having a difficult time enacting a real tax cut, it could and should be argued that his administration's anticipated and now largely real attempts to rein in the regulatory leviathan have had a positive effect similar to a tax cut. That's because there's less regulatory uncertainty, more predictability and, it would appear, a much slower rise and perhaps even a stabilization in the regulatory burden. Imagine what a boost to the economy and the markets a genuine tax cut would bring.
Kudos to Santelli and Grasso for effectively recognizing this.
Cross-posted at NewsBusters.org.